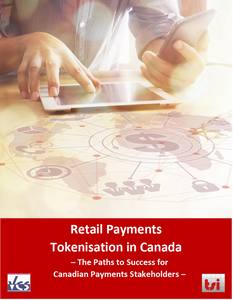 Retail Payments Tokenisation in Canada
Regular price $4,995.00 Sale
The Paths to Success for Canadian Payments Stakeholders


Overview
Tokenisation of payments will have a profound impact on retail credit, debit and prepaid payments. The fundamental relationships between card networks, issuers, merchants, application providers, payments processors and cardholders are changing in a tokenised payment world. Key stakeholders are positioning themselves for their new roles in this new world of payments tokens. While tokenisation provides immense opportunities for players in the payments ecosystem, navigating this terrain is complex and fraught with risks and challenges.
Why this report is Important for your Organization
Retail Payments Tokenisation is important for your organization's future as an online merchant, payment processor or issuer. Regardless of whether or not your business takes an active or passive role in tokenisation, your business success will be impacted either positively or negatively (or both) by tokenisation.

Tread with caution, but don't delay in developing your tokenisation strategy. Significant benefits from tokenisation extend well beyond the obvious benefits of increased security for payment transactions. Tokenisation enables a new generation of payments fraud control tools, and provides a gateway into fintech and other value-added services.

Merchants, issuers and processors will all incur increased costs as a result of tokenisation. Tokenisation as currently structured by the card networks, also represent a significant potential for disintermediation from your customers. The risks to merchants, processors and issuers from tokenisation can be mitigated and the benefits can be maximised, through a thorough understanding of the realities of retail payments tokenisation and the proper implementation of a tokenisation plan.

This Navigation Report provides a critical assessment of the real value, opportunities, shortcomings and implications of entering into a tokenization program. As a result, your organization is provided with essential guidance for your tokenisation business case, and recommendations for action by issuers, merchants and payment processors.
In-depth Insight
This comprehensive and independent Navigation Report provides compelling insights that address three key areas critical to building a successful business case for tokenisation: 
What are the business, service and strategic opportunities and impacts of tokenisation for merchants, issuers and payments solution providers?

How should different players respond to the drive towards tokenisation?

What are the key considerations that cannot be overlooked in developing the business case for tokenisation?
About the Report
The report provides essential guidance and direction for the tokenisation business cases of Canadian issuers, merchants and payments service providers. It examines payments tokenisation from the business perspective of the key players in the payments ecosystem and provides a critical assessment of the real value, challenges and implications of establishing or participating in tokenisation programs.
The report addresses the following important areas:
Unique Canadian history and approach to tokenisation

Types of tokens and their lifecycles

Stakeholder specific tokenisation roles, responsibilities, fees and costs

Compliance and standards applied to tokenisation

Future developments in tokenisation technology

Challenges with card scheme tokenisation programs

Stakeholder specific business cases and roadmaps to proceed with tokenisation
Thirty two Action Advisories provide essential guidance for business case development.
Key Questions Answered
Who will be doing what in the tokenisation of the card number? - The answer is both complicated and surprising
Who controls the link between the token and the 'real' number? – New stakeholders and roles are being introduced into the payments ecosystem
Whose rules and standards will apply to tokenisation in Canada? – There is a new compliance regime around tokenisation with some unique Canadian twists
Who is charging whom for tokenisation services? – While fraud costs may be reduced, somebody has to pay the additional tokenisation services costs
What does the card holder (as the ultimate consumer) think of all this? – Does the cardholder perceive tokenisation as a solution, and does the consumer's perspective matter? This answer is also complicated and surprising.
Essential Reading
This Navigation Report was written from a business perspective. It is designed to provide the necessary insight for issuers, processors and merchants to identify a way forward in their tokenisation strategies and product plans. If your organization is looking for a path through the minefield in retail payments tokenisation, then this Navigation Report and its 32 Action Advisories is part of your essential reading. 
Methodology
Mike Vaselenak, the primary author of this report, has leveraged his three decades of experience and leadership in Canadian payments, coupled with in-depth research and interviews, to prepare this insightful Navigation Report. Focused interviews were conducted with participating card schemes, as well as leading Canadian and international experts on retail payments, payments security, and payments systems. The findings and conclusions were supported by TSI's statistically valid Canadian Consumer Payments Surveys, which included consumers' perspectives on retail online, physical and mobile payments as they apply to tokenisation. 
Publication Details
Publication date: September 2019
Number of pages: 95 pages of in-depth analysis, advisories and insight
Subscription/Purchase Options
This report can be purchased as a stand-alone report through this website. It may also fall within your organization's subscription package.
Discounts are available for bundled purchases. Please contact us to enquire about bundled pricing. 
Download a detailed table of contents, methodology and report sample.