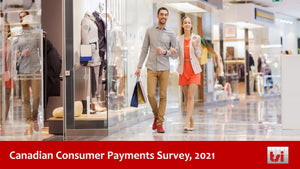 Canadian Consumer Payments Survey, 2021
Regular price $12,995.00 Sale
Download the Sample Report and Table of Contents (2020 Report) 
The continuation of the COVID-19 pandemic into 2021, and the associated policy measures taken to limit the impact of the spread of the virus, has seen sustained changes in consumer shopping and payment behaviour. Canadian Consumer Payments Survey, 2021, a primary tracking research study conducted online among 2,000+ online adult Canadians, examines the attitudes, payments behaviour and preferences of Canadian consumers across all major payment modalities, looking at the current situation and what consumers expect as the pandemic abates. It provides subscribers with the essential insights into consumer payments in Canada, critical to effective business planning and product development in this turbulent environment. 
Canadian Consumer Payments Survey, 2021 is the most comprehensive consumer payments survey in Canada, and includes an analysis of the awareness, current usage, and future usage intentions of both traditional and emerging payment instruments. In both the 2020 and 2021 we have included a special section on COVID-19 and how this has impacted on consumer payment preferences. The 2021 survey addresses the following forms of consumer payments: 

| | | |
| --- | --- | --- |
| Cash | Contactless payments | Prepaid cards |
| Cheques | Mobile payments | Gift cards  |
| Debit cards | Online purchases | P2P payments |
| Credit cards | Preauthorized payments | International remittances |
| Bill payments | Virtual currencies | Wearables |
| | Loyalty redemption | |

A strategic resource for payment professionals, Canadian Consumer Payments Survey, 2021 is an essential companion to Canadian Payments Forecast, 2021.
Now in its eighth year of publication, this new report from Technology Strategies International Inc. will provide in-depth insights into consumer payment trends and dynamics in Canada.

About the report
Report Publication date: June 2021
Number of pages: 145 pages of analysis with 140 charts and 40 tables (wide format)
Comprehensive set of data tables included with subscription (3 sets of banners)
Data tables available in April 2021
Companies mentioned in the 2020 report
This report mentions Aeroplan, AIR MILES, AliPay, Amazon, American Express, Apple, Bank of Montreal, CAA, Canadian Tire, Esso, Ethereum, Fitbit, Garmin, Google, HBC, Huawei, Indigo, Interac, LG, MasterCard, Metro, Motorola, PayPal, Petro-Canada, President's Choice, Royal Bank of Canada, Samsung, Scotiabank, Sobeys, Starbucks, Swatch, TD Bank, Uber, UnionPay, Visa, WeChat and Western Union.
Methodology:
Online research
Canadians aged 18 and over
Nationally balanced sample
Sample size, n=2,000+ 
Fieldwork to be conducted in March 2021 
Contents of the 2020 Report
The View from 30,000 ft
Introduction

Background and Objectives
How did we do it? – Methodology
Significance Testing
Sample Profile

Detailed Findings

Payment Preferences
The Impact of COVID-19 on Payments

Bank Branch and ABM Visits
Cash Withdrawals and Usage
Cheque payments
Visa and MasterCard Debit Ownership and Usage
Credit Card Ownership
Contactless Awareness and Usage
Mobile Payments
Online Purchases and Payments
Wearable Payments
Online Bill Payments
Preauthorized Payments
Prepaid Cards
Gift Cards
Loyalty Redemption Payments
P2P Payments
International Remittances
Virtual Currencies
Download the CCPS 2020 table of contents, methodology and report sample. Note that this sample does not include the structure of the data tables included in the subscription. For more details please contact us at insights@tsiglobalnet.com or by phone at +1 416 628 0796.